Innovations in Better and Safer Sleep for Baby.
Safe Sleep for your little one. 
A helpful guide for dressing baby for sleep.
There are several ways to snugly swaddle your newborn during Stage 1
1. Large Square Swaddle Blankets.
SwaddleDesigns offers many fabric types and styles to choose from:
Soft and Breathable Cotton Flannel
Cotton Muslin
Cotton Marquisette
2. Swaddle Wrap - with hook and loop wrap closure.
3. The Omni Swaddle - Newest Generation - with the greatest flexibility and ease of use.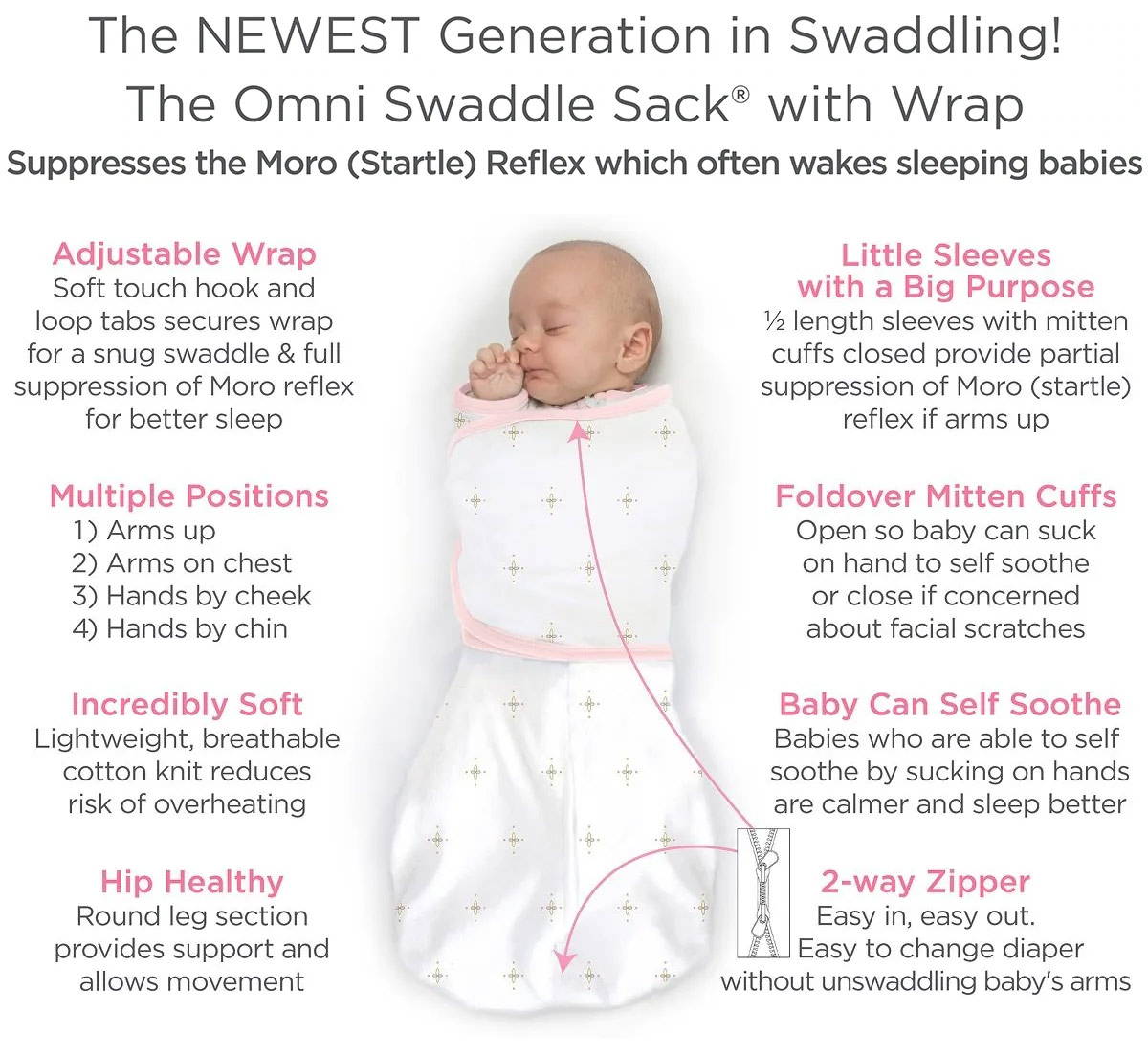 Every baby has unique sleep preferences that change as they grow and develop. The Omni Swaddle Sack with Wrap is convertible and designed to provide flexibility, comfort, and support. For babies who prefer one arm out when swaddled, the sleeve will help keep baby's arm warm and the mitten cuff may be worn open or closed. For babies who enjoy sucking on their hand, parents can open one or both mittens to allow baby to self-soothe. The cuffs may be closed if the caregiver is concerned about facial scratches.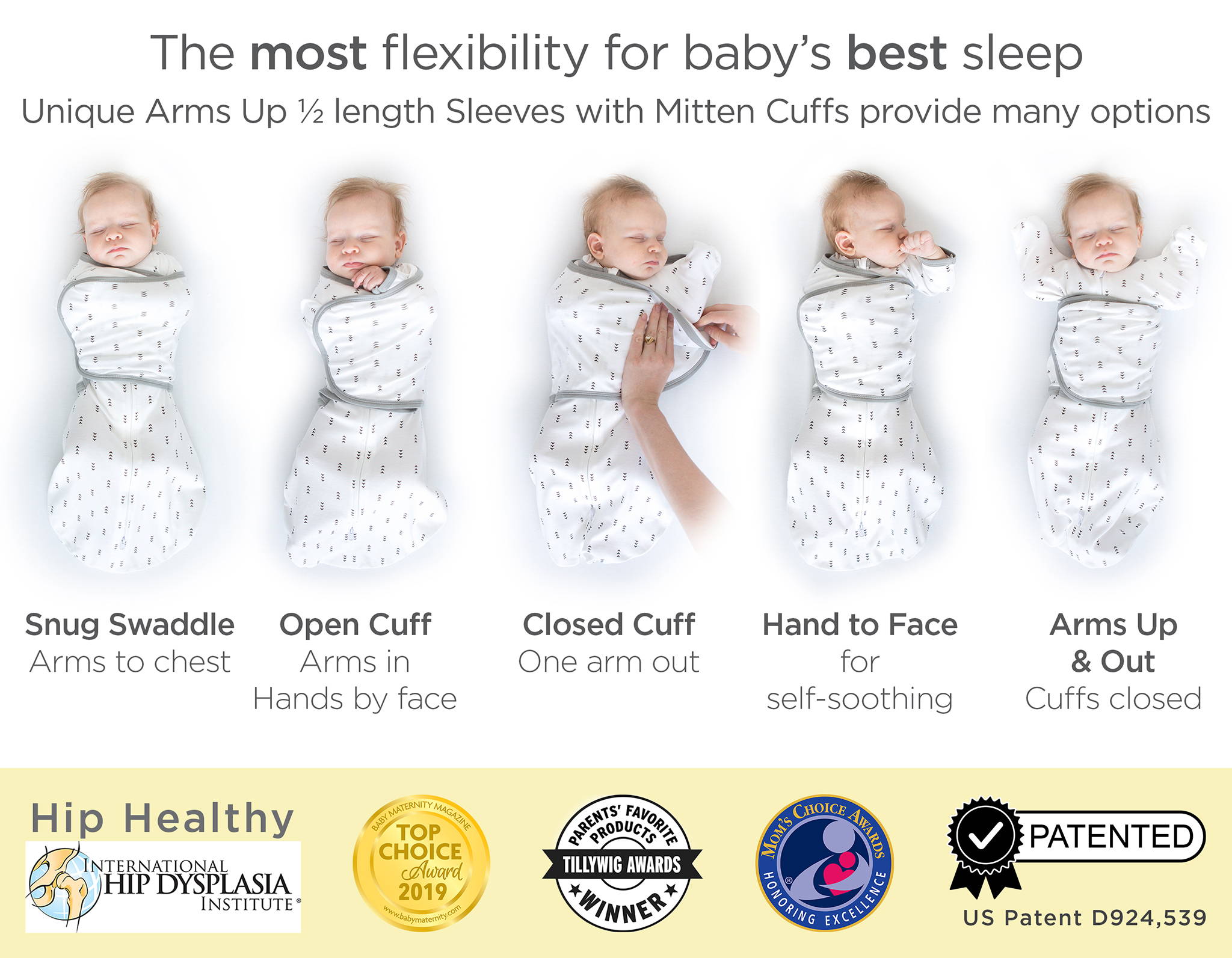 The American Academy of Pediatrics recommends parents to stop restraining baby's arms in a snug swaddle around two to three months or when baby shows signs of starting to roll over. However, many babies are not ready and are unable to sleep well in a loose wearable blanket at this stage. If parents continue to swaddle their baby with arms restrained at this stage, the risk of suffocation increases if baby was to roll over. To address this issue, our founder, a nurse, created The Transitional Swaddle Sack® with Arms Up and Mitten Cuffs. It is a very important innovation in Safe Sleepwear - especially for babies who can roll over. The Transitional Swaddle Sack bridges the gap between a snug swaddle and a loose sleeping sack. The Transitional Swaddle Sack with Arms Up design supports multiple natural sleep positions and partially suppresses the Moro (Startle) Reflex while providing swaddle comfort and support, and if baby rolls over onto tummy, the design allows baby to use their arms to push up and lift their torso to reposition their head to get access to air. The fold over mitten cuffs allow parents to open the cuffs, so baby can self-soothe, or close the cuffs to protect baby from facial scratches. The Transitional Swaddle Sack is the perfect transitional swaddle and the missing step in current safe sleep programs.
Our zzZipMe Sack® is a wearable blanket, also known as a sleeping sack. Many babies are ready for a sleeping sack around 6 months or when they are completely done with Swaddling and sleep well in a loose fitting wearable blanket.
Our mission is to help new parents and babies sleep better and sleep safer, and to offer safe sleep products that help promote safe sleep. Together, we can create safer sleep for Babies to Sleep, Grow, and Thrive.


LYNETTE DAMIR, RN, CEO & FOUNDER OF SWADDLEDESIGNS, is known for her stylish, functional & innovative designs to help parents care for and comfort their baby.